Jarrett Stephens - April 16, 2023
Why Doctrine Matters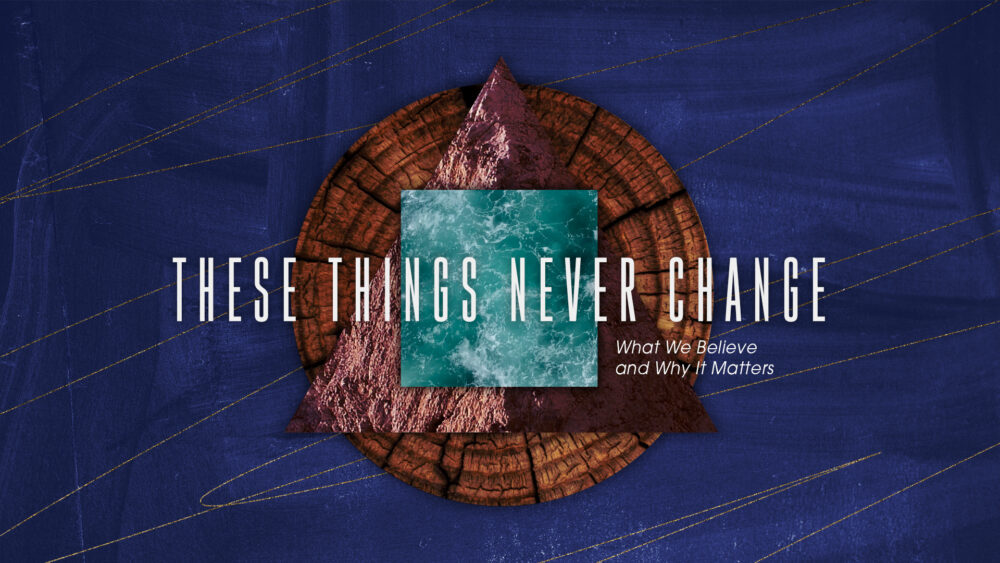 Jarrett Stephens 04.16.2023
More Messages from Jarrett Stephens | Download Audio
From Series: "These Things Never Change"
In an ever changing cultural landscape, what can we stand on that endures? What never changes are the core doctrines of our faith. Throughout time these doctrines have been fundamental. These truths not only form and inform our faith but have shaped believers throughout history. Join us as we explore what we believe… and why it matters.
More Messages from Jarrett Stephens...
| | | | | | |
| --- | --- | --- | --- | --- | --- |
| Wonderful Counselor | Jarrett Stephens | December 3, 2023 | | Watch | Listen |
| Israel and the Christian | Jarrett Stephens | November 26, 2023 | | Watch | Listen |
| A Prescription Called Prayer | Jarrett Stephens | November 19, 2023 | | Watch | Listen |
| Staying Up In Down Times | Jarrett Stephens | November 12, 2023 | | Watch | Listen |
| A Warning to the Wealthy | Jarrett Stephens | November 5, 2023 | | Watch | Listen |
| Making the Most of Your Days | Jarrett Stephens | October 15, 2023 | | Watch | Listen |
| Winning the War Within | Jarrett Stephens | October 8, 2023 | | Watch | Listen |
| Taming the Untamable | Jarrett Stephens | September 24, 2023 | | Watch | Listen |
| Fighting Favoritism | Jarrett Stephens | September 10, 2023 | | Watch | Listen |
| Living the Word | Jarrett Stephens | September 3, 2023 | | Watch | Listen |
| Defeating Temptation | Jarrett Stephens | August 27, 2023 | | Watch | Listen |
| The Pathway to Perfection | Jarrett Stephens | August 20, 2023 | | Watch | Listen |
| The Letter of James | Jarrett Stephens | August 13, 2023 | | Watch | Listen |
| Bringing People To Jesus | Jarrett Stephens | August 6, 2023 | | Watch | Listen |
| The Answer to Anxiety and Fear | Jarrett Stephens | July 30, 2023 | | Watch | Listen |
| The Answer To Anxiety and Fear | Jarrett Stephens | July 9, 2023 | | Watch | Listen |
| The Answer to Anxiety and Fear | Jarrett Stephens | June 25, 2023 | | Watch | Listen |
| A Father's Psalm | Jarrett Stephens | June 18, 2023 | | Watch | Listen |
| Last Things | Jarrett Stephens | June 4, 2023 | | Watch | Listen |
| The Reality of the Unseen | Jarrett Stephens | May 21, 2023 | | Watch | |
| The Church | Jarrett Stephens | May 14, 2023 | | Watch | Listen |
| The Scripture | Jarrett Stephens | May 7, 2023 | | Watch | Listen |
| The Trinity | Jarrett Stephens | April 30, 2023 | | Watch | Listen |
| Knowing God | Jarrett Stephens | April 23, 2023 | | Watch | Listen |
| Why Doctrine Matters | Jarrett Stephens | April 16, 2023 | | Watch | Listen |
| The Resurrected King | Jarrett Stephens | April 9, 2023 | | Watch | Listen |
| Final Words | Jarrett Stephens | April 2, 2023 | | Watch | Listen |
| A Word of Completion | Jarrett Stephens | March 26, 2023 | | Watch | Listen |
| A Word Of Agony | Jarrett Stephens | March 19, 2023 | | Watch | Listen |
| A Word Of Anguish | Jarrett Stephens | March 12, 2023 | | Watch | Listen |
| A Word Of Salvation | Jarrett Stephens | February 26, 2023 | | Watch | Listen |
| A Word of Forgiveness | Jarrett Stephens | February 19, 2023 | | Watch | Listen |
| Strengthening the Church | Jarrett Stephens | February 12, 2023 | | Watch | Listen |
| Loving Our Community | Jarrett Stephens | February 5, 2023 | | Watch | Listen |
| Making Disciples | Jarrett Stephens | January 29, 2023 | | Watch | Listen |
| Focus | Jarrett Stephens | January 22, 2023 | | Watch | Listen |
| Focus | Jarrett Stephens | January 22, 2023 | | Watch | Listen |
| Advancing the Kingdom | Jarrett Stephens | January 22, 2023 | | Watch | Listen |
| Jesus As King | Jarrett Stephens | December 18, 2022 | | Watch | Listen |
| Jesus As Priest | Jarrett Stephens | December 11, 2022 | | Watch | Listen |
| Jesus As Prophet | Jarrett Stephens | December 4, 2022 | | Watch | Listen |
| Jesus As Prophet | Jarrett Stephens | December 4, 2022 | | Watch | Listen |
| The Fifth Gospel | Jarrett Stephens | November 27, 2022 | | Watch | Listen |
| The Good Shepherd | Jarrett Stephens | November 20, 2022 | | Watch | Listen |
| The First Gospel | Jarrett Stephens | October 30, 2022 | | Watch | Listen |
| Serve and Story | Jarrett Stephens | October 16, 2022 | | Watch | Listen |
| Listen And Eat | Jarrett Stephens | October 9, 2022 | | Watch | Listen |
| Begin With Prayer | Jarrett Stephens | October 2, 2022 | | Watch | Listen |
| Giving God Your Heart | Jarrett Stephens | September 25, 2022 | | Watch | Listen |
| How God Sees Sex | Jarrett Stephens | September 18, 2022 | | Watch | Listen |
| Our Place In Politics | Jarrett Stephens | September 11, 2022 | | Watch | Listen |
| The Amazing Race | Jarrett Stephens | September 4, 2022 | | Watch | Listen |
| Choosing Life | Jarrett Stephens | August 28, 2022 | | Watch | Listen |
| The Problem of Evil, Pain, and Suffering | Jarrett Stephens | August 21, 2022 | | Watch | Listen |
| A Biblical Worldview | Jarrett Stephens | August 14, 2022 | | Watch | Listen |
| Last Words | Jarrett Stephens | July 24, 2022 | | Watch | |
| Last Words | Jarrett Stephens | July 17, 2022 | | Watch | Listen |
| Last Words | Jarrett Stephens | July 3, 2022 | | Watch | Listen |
| The Need for Church | Jarrett Stephens | June 26, 2022 | | Watch | Listen |
| Act Like Men | Jarrett Stephens | June 19, 2022 | | Watch | Listen |
| The Most Important Relationship | Jarrett Stephens | June 12, 2022 | | Watch | Listen |
| Influencing the Lost | Jarrett Stephens | June 5, 2022 | | Watch | |
| A Lasting Legacy | Jarrett Stephens | May 22, 2022 | | Watch | |
| A Better Marriage | Jarrett Stephens | May 15, 2022 | | Watch | Listen |
| The Model Mom | Jarrett Stephens | May 8, 2022 | | Watch | Listen |
| Shipwrecks, Snakebites, and Salvations. | Jarrett Stephens | May 1, 2022 | | Watch | Listen |
| A Ready Defense | Jarrett Stephens | April 24, 2022 | | Watch | Listen |
| Why I Believe | Jarrett Stephens | April 17, 2022 | | Watch | Listen |
| Nothing But The Blood | Jarrett Stephens | April 15, 2022 | | Watch | Listen |
| Trust and Obey | Jarrett Stephens | April 10, 2022 | | Watch | Listen |
| What Really Matters | Jarrett Stephens | April 3, 2022 | | Watch | Listen |
| The Reality of Evil and Spiritual Warfare | Jarrett Stephens | March 27, 2022 | | Watch | Listen |
| Clarity | Jarrett Stephens | March 20, 2022 | | Watch | |
| Eager to Speak | Jarrett Stephens | February 27, 2022 | | Watch | Listen |
| Pointing People to Jesus | Jarrett Stephens | February 20, 2022 | | Watch | Listen |
| The Power of a Pause | Jarrett Stephens | February 6, 2022 | | Watch | Listen |
| The Showdown at the Jerusalem Council | Jarrett Stephens | January 30, 2022 | | Watch | Listen |
| The Sending Church Part Two | Jarrett Stephens | January 23, 2022 | | Watch | Listen |
| The Sending Church | Jarrett Stephens | January 16, 2022 | | Watch | Listen |
| Turning Point | Jarrett Stephens | January 9, 2022 | | Watch | Listen |
| A Blessed Life | Jarrett Stephens | January 2, 2022 | | Watch | Listen |
| A Blessed Life | Jarrett Stephens | December 26, 2021 | | Watch | Listen |
| For All The People | Jarrett Stephens | December 19, 2021 | | Watch | Listen |
| GREAT JOY | Jarrett Stephens | December 12, 2021 | | Watch | |
| GOOD NEWS | Jarrett Stephens | December 5, 2021 | | Watch | Listen |
| Livin' On A Prayer | Jarrett Stephens | November 28, 2021 | | Watch | Listen |
| For God So Loved The World | Jarrett Stephens | November 14, 2021 | | Watch | Listen |
| For God so Loved the World | Jarrett Stephens | November 14, 2021 | | Watch | |
| A Changed Life | Jarrett Stephens | November 7, 2021 | | Watch | Listen |
| What To Do When God Says "Go!" | Jarrett Stephens | October 31, 2021 | | Watch | Listen |
| Wildfire | Jarrett Stephens | October 24, 2021 | | Watch | |
| Stephen: A Faithful Witness | Jarrett Stephens | October 17, 2021 | | Watch | Listen |
| Jerusalem, We Have a Problem | Jarrett Stephens | October 10, 2021 | | Watch | Listen |
| Jailbreak | Jarrett Stephens | October 3, 2021 | | Watch | Listen |
| The Model Church | Jarrett Stephens | September 26, 2021 | | Watch | Listen |
| The Model Church | Jarrett Stephens | September 26, 2021 | | Watch | |
| The Heat Is On | Jarrett Stephens | September 19, 2021 | | Watch | Listen |
| Footloose | Jarrett Stephens | September 12, 2021 | | Watch | Listen |
| The Church Together | Jarrett Stephens | September 5, 2021 | | Watch | Listen |
| Choices | Jarrett Stephens | August 29, 2021 | | Watch | Listen |