Jarrett Stephens - June 6, 2021
Pursuing the Lost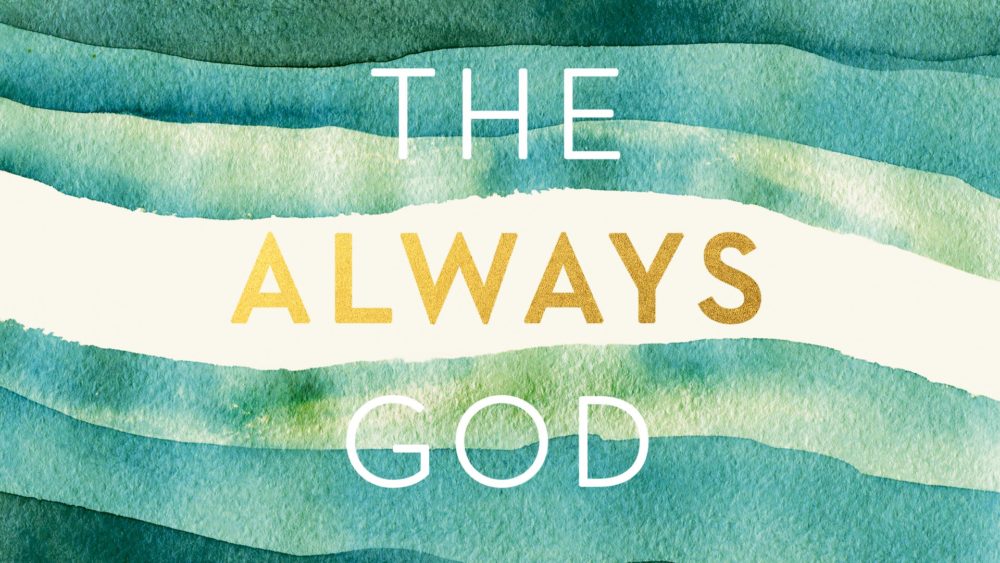 Pastor Jarrett Stephens Luke 15 Sunday, June 06, 2021
Related Books: Luke | More Messages from Jarrett Stephens | Download Audio
From Series: "The Always God"
There's a rising sense of uncertainty and turmoil in the world and in our lives. Loss and disappointment seem endless—whether because of an unexpected diagnosis, a desperate search for a job, or our concern for the future of those we love. In this message, we explore how our unchanging God can change everything.
More Messages from Jarrett Stephens...
| | | | | | |
| --- | --- | --- | --- | --- | --- |
| Taming the Untamable | Jarrett Stephens | September 24, 2023 | | Watch | Listen |
| Fighting Favoritism | Jarrett Stephens | September 10, 2023 | | Watch | Listen |
| Living the Word | Jarrett Stephens | September 3, 2023 | | Watch | Listen |
| Defeating Temptation | Jarrett Stephens | August 27, 2023 | | Watch | Listen |
| The Pathway to Perfection | Jarrett Stephens | August 20, 2023 | | Watch | Listen |
| The Letter of James | Jarrett Stephens | August 13, 2023 | | Watch | Listen |
| Bringing People To Jesus | Jarrett Stephens | August 6, 2023 | | Watch | Listen |
| The Answer to Anxiety and Fear | Jarrett Stephens | July 30, 2023 | | Watch | Listen |
| The Answer To Anxiety and Fear | Jarrett Stephens | July 9, 2023 | | Watch | Listen |
| The Answer to Anxiety and Fear | Jarrett Stephens | June 25, 2023 | | Watch | Listen |
| A Father's Psalm | Jarrett Stephens | June 18, 2023 | | Watch | Listen |
| Last Things | Jarrett Stephens | June 4, 2023 | | Watch | Listen |
| The Reality of the Unseen | Jarrett Stephens | May 21, 2023 | | Watch | |
| The Church | Jarrett Stephens | May 14, 2023 | | Watch | Listen |
| The Scripture | Jarrett Stephens | May 7, 2023 | | Watch | Listen |
| The Trinity | Jarrett Stephens | April 30, 2023 | | Watch | Listen |
| Knowing God | Jarrett Stephens | April 23, 2023 | | Watch | Listen |
| Why Doctrine Matters | Jarrett Stephens | April 16, 2023 | | Watch | Listen |
| The Resurrected King | Jarrett Stephens | April 9, 2023 | | Watch | Listen |
| Final Words | Jarrett Stephens | April 2, 2023 | | Watch | Listen |
| A Word of Completion | Jarrett Stephens | March 26, 2023 | | Watch | Listen |
| A Word Of Agony | Jarrett Stephens | March 19, 2023 | | Watch | Listen |
| A Word Of Anguish | Jarrett Stephens | March 12, 2023 | | Watch | Listen |
| A Word Of Salvation | Jarrett Stephens | February 26, 2023 | | Watch | Listen |
| A Word of Forgiveness | Jarrett Stephens | February 19, 2023 | | Watch | Listen |
| Strengthening the Church | Jarrett Stephens | February 12, 2023 | | Watch | Listen |
| Loving Our Community | Jarrett Stephens | February 5, 2023 | | Watch | Listen |
| Making Disciples | Jarrett Stephens | January 29, 2023 | | Watch | Listen |
| Focus | Jarrett Stephens | January 22, 2023 | | Watch | Listen |
| Focus | Jarrett Stephens | January 22, 2023 | | Watch | Listen |
| Advancing the Kingdom | Jarrett Stephens | January 22, 2023 | | Watch | Listen |
| Jesus As King | Jarrett Stephens | December 18, 2022 | | Watch | Listen |
| Jesus As Priest | Jarrett Stephens | December 11, 2022 | | Watch | Listen |
| Jesus As Prophet | Jarrett Stephens | December 4, 2022 | | Watch | Listen |
| Jesus As Prophet | Jarrett Stephens | December 4, 2022 | | Watch | Listen |
| The Fifth Gospel | Jarrett Stephens | November 27, 2022 | | Watch | Listen |
| The Good Shepherd | Jarrett Stephens | November 20, 2022 | | Watch | Listen |
| The First Gospel | Jarrett Stephens | October 30, 2022 | | Watch | Listen |
| Serve and Story | Jarrett Stephens | October 16, 2022 | | Watch | Listen |
| Listen And Eat | Jarrett Stephens | October 9, 2022 | | Watch | Listen |
| Begin With Prayer | Jarrett Stephens | October 2, 2022 | | Watch | Listen |
| Giving God Your Heart | Jarrett Stephens | September 25, 2022 | | Watch | Listen |
| How God Sees Sex | Jarrett Stephens | September 18, 2022 | | Watch | Listen |
| Our Place In Politics | Jarrett Stephens | September 11, 2022 | | Watch | Listen |
| The Amazing Race | Jarrett Stephens | September 4, 2022 | | Watch | Listen |
| Choosing Life | Jarrett Stephens | August 28, 2022 | | Watch | Listen |
| The Problem of Evil, Pain, and Suffering | Jarrett Stephens | August 21, 2022 | | Watch | Listen |
| A Biblical Worldview | Jarrett Stephens | August 14, 2022 | | Watch | Listen |
| Last Words | Jarrett Stephens | July 24, 2022 | | Watch | |
| Last Words | Jarrett Stephens | July 17, 2022 | | Watch | Listen |
| Last Words | Jarrett Stephens | July 3, 2022 | | Watch | Listen |
| The Need for Church | Jarrett Stephens | June 26, 2022 | | Watch | Listen |
| Act Like Men | Jarrett Stephens | June 19, 2022 | | Watch | Listen |
| The Most Important Relationship | Jarrett Stephens | June 12, 2022 | | Watch | Listen |
| Influencing the Lost | Jarrett Stephens | June 5, 2022 | | Watch | |
| A Lasting Legacy | Jarrett Stephens | May 22, 2022 | | Watch | |
| A Better Marriage | Jarrett Stephens | May 15, 2022 | | Watch | Listen |
| The Model Mom | Jarrett Stephens | May 8, 2022 | | Watch | Listen |
| Shipwrecks, Snakebites, and Salvations. | Jarrett Stephens | May 1, 2022 | | Watch | Listen |
| A Ready Defense | Jarrett Stephens | April 24, 2022 | | Watch | Listen |
| Why I Believe | Jarrett Stephens | April 17, 2022 | | Watch | Listen |
| Nothing But The Blood | Jarrett Stephens | April 15, 2022 | | Watch | Listen |
| Trust and Obey | Jarrett Stephens | April 10, 2022 | | Watch | Listen |
| What Really Matters | Jarrett Stephens | April 3, 2022 | | Watch | Listen |
| The Reality of Evil and Spiritual Warfare | Jarrett Stephens | March 27, 2022 | | Watch | Listen |
| Clarity | Jarrett Stephens | March 20, 2022 | | Watch | |
| Eager to Speak | Jarrett Stephens | February 27, 2022 | | Watch | Listen |
| Pointing People to Jesus | Jarrett Stephens | February 20, 2022 | | Watch | Listen |
| The Power of a Pause | Jarrett Stephens | February 6, 2022 | | Watch | Listen |
| The Showdown at the Jerusalem Council | Jarrett Stephens | January 30, 2022 | | Watch | Listen |
| The Sending Church Part Two | Jarrett Stephens | January 23, 2022 | | Watch | Listen |
| The Sending Church | Jarrett Stephens | January 16, 2022 | | Watch | Listen |
| Turning Point | Jarrett Stephens | January 9, 2022 | | Watch | Listen |
| A Blessed Life | Jarrett Stephens | January 2, 2022 | | Watch | Listen |
| A Blessed Life | Jarrett Stephens | December 26, 2021 | | Watch | Listen |
| For All The People | Jarrett Stephens | December 19, 2021 | | Watch | Listen |
| GREAT JOY | Jarrett Stephens | December 12, 2021 | | Watch | |
| GOOD NEWS | Jarrett Stephens | December 5, 2021 | | Watch | Listen |
| Livin' On A Prayer | Jarrett Stephens | November 28, 2021 | | Watch | Listen |
| For God So Loved The World | Jarrett Stephens | November 14, 2021 | | Watch | Listen |
| For God so Loved the World | Jarrett Stephens | November 14, 2021 | | Watch | |
| A Changed Life | Jarrett Stephens | November 7, 2021 | | Watch | Listen |
| What To Do When God Says "Go!" | Jarrett Stephens | October 31, 2021 | | Watch | Listen |
| Wildfire | Jarrett Stephens | October 24, 2021 | | Watch | |
| Stephen: A Faithful Witness | Jarrett Stephens | October 17, 2021 | | Watch | Listen |
| Jerusalem, We Have a Problem | Jarrett Stephens | October 10, 2021 | | Watch | Listen |
| Jailbreak | Jarrett Stephens | October 3, 2021 | | Watch | Listen |
| The Model Church | Jarrett Stephens | September 26, 2021 | | Watch | Listen |
| The Model Church | Jarrett Stephens | September 26, 2021 | | Watch | |
| The Heat Is On | Jarrett Stephens | September 19, 2021 | | Watch | Listen |
| Footloose | Jarrett Stephens | September 12, 2021 | | Watch | Listen |
| The Church Together | Jarrett Stephens | September 5, 2021 | | Watch | Listen |
| Choices | Jarrett Stephens | August 29, 2021 | | Watch | Listen |
| Let's Go! | Jarrett Stephens | August 22, 2021 | | Watch | Listen |
| What are We Here For? | Jarrett Stephens | August 8, 2021 | | Watch | Listen |
| David & Goliath | Jarrett Stephens | August 1, 2021 | | Watch | |
| Lessons from the Lion's Den | Jarrett Stephens | July 11, 2021 | | Watch | Listen |
| The Warrior Way | Jarrett Stephens | July 4, 2021 | | Watch | Listen |
| The Warrior Way | Jarrett Stephens | July 4, 2021 | | Watch | Listen |
| The Man God Uses | Jarrett Stephens | June 20, 2021 | | Watch | Listen |