Averri LeMalle - May 23, 2021
Appropriate Anger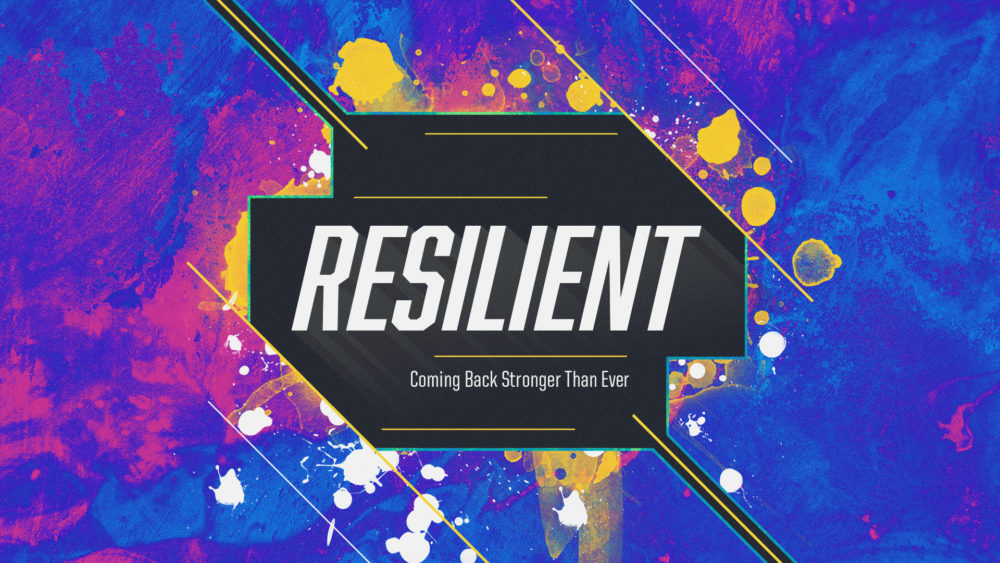 Related Books: Ephesians | More Messages from Averri LeMalle | Download Audio
From Series: "Resilient - JV"
As we move forward from the pandemic, people are struggling with mental health and emotional issues like never before. Fear, anxiety, worry, depression, grief, shame, and anger are gripping the hearts and minds of many. But, we know that God's Word tells us that in Christ we are more than conquerors! Our desire in this series is to look at these subjects through a biblical worldview and provide hope and healing that can only come from a personal relationship with Jesus Christ. It's time to come back stronger than ever!
More Messages from Averri LeMalle...
| | | | | | |
| --- | --- | --- | --- | --- | --- |
| Where Does My Help Come From? | Averri LeMalle | July 16, 2023 | | Watch | Listen |
| Where Does My Help Come From? | Averri LeMalle | July 9, 2023 | | Watch | Listen |
| Where my help Comes From | Averri LeMalle | June 18, 2023 | | Watch | Listen |
| Last Thing | Averri LeMalle | June 4, 2023 | | Watch | Listen |
| Our Salvation | Averri LeMalle | May 28, 2023 | | Watch | Listen |
| The Reality of the Unseen | Averri LeMalle | May 21, 2023 | | Watch | Listen |
| The Church | Averri LeMalle | May 14, 2023 | | Watch | Listen |
| The Scripture | Averri LeMalle | May 7, 2023 | | Watch | Listen |
| The Trinity | Averri LeMalle | April 30, 2023 | | Watch | Listen |
| Why Doctrine Matters | Averri LeMalle | April 16, 2023 | | Watch | Listen |
| The Resurrected King | Averri LeMalle | April 9, 2023 | | Watch | Listen |
| Final Words | Averri LeMalle | April 2, 2023 | | Watch | Listen |
| A Word of triumph | Averri LeMalle | March 26, 2023 | | Watch | Listen |
| A Word of Agony | Averri LeMalle | March 19, 2023 | | Watch | Listen |
| A Word of Anguish | Averri LeMalle | March 12, 2023 | | Watch | Listen |
| A Caring Word | Averri LeMalle | March 5, 2023 | | Watch | Listen |
| A Word Of Salvation | Averri LeMalle | February 26, 2023 | | Watch | Listen |
| A Word of Forgiveness | Averri LeMalle | February 19, 2023 | | Watch | Listen |
| Strengthening the Church | Averri LeMalle | February 12, 2023 | | Watch | Listen |
| Loving Our Community | Averri LeMalle | February 5, 2023 | | Watch | Listen |
| Making Diciples | Averri LeMalle | January 29, 2023 | | Watch | Listen |
| Jesus is the light of the world | Averri LeMalle | December 24, 2022 | | Watch | Listen |
| Jesus as King | Averri LeMalle | December 18, 2022 | | Watch | Listen |
| Jesus, Our Great High Priest | Averri LeMalle | December 11, 2022 | | Watch | Listen |
| Jesus as Prophet | Averri LeMalle | December 4, 2022 | | Watch | Listen |
| The Good Shepherd | Averri LeMalle | November 20, 2022 | | Watch | Listen |
| Jesus is our Passover Lamb | Averri LeMalle | November 13, 2022 | | Watch | Listen |
| Jesus Provides | Averri LeMalle | November 6, 2022 | | Watch | Listen |
| Jesús in Genesis | Averri LeMalle | October 30, 2022 | | Watch | Listen |
| Serve and Story | Averri LeMalle | October 16, 2022 | | Watch | Listen |
| Begin with Prayer | Averri LeMalle | October 2, 2022 | | Watch | Listen |
| Generosity to GOD | Averri LeMalle | September 25, 2022 | | Watch | Listen |
| Biblical Sexuality | Averri LeMalle | September 18, 2022 | | Watch | Listen |
| Our Place in Politics | Averri LeMalle | September 11, 2022 | | Watch | Listen |
| Grace for the Race | Averri LeMalle | September 4, 2022 | | Watch | Listen |
| Choose Life | Averri LeMalle | August 28, 2022 | | Watch | Listen |
| Suffering and Sovereignty | Averri LeMalle | August 21, 2022 | | Watch | Listen |
| A Biblical Worldview | Averri LeMalle | August 14, 2022 | | Watch | Listen |
| Trust God! | Averri LeMalle | July 10, 2022 | | Watch | Listen |
| Trust God! | Averri LeMalle | July 3, 2022 | | Watch | Listen |
| Connections to Count On | Averri LeMalle | June 26, 2022 | | Watch | Listen |
| Lessons from a godly man | Averri LeMalle | June 19, 2022 | | Watch | Listen |
| Grow in Christ | Averri LeMalle | June 12, 2022 | | Watch | Listen |
| Godly Influence | Averri LeMalle | June 5, 2022 | | Watch | Listen |
| See the You God Knows | Averri LeMalle | May 29, 2022 | | Watch | Listen |
| A Lasting Legacy | Averri LeMalle | May 22, 2022 | | Watch | Listen |
| Paired for a Purpose | Averri LeMalle | May 15, 2022 | | Watch | Listen |
| Lessons from a godly Mother | Averri LeMalle | May 8, 2022 | | Watch | Listen |
| Courage in Crisis | Averri LeMalle | May 1, 2022 | | Watch | Listen |
| Power of a Testimony | Averri LeMalle | April 24, 2022 | | Watch | Listen |
| Why I Believe | Averri LeMalle | April 17, 2022 | | Watch | Listen |
| Trust and Obey | Averri LeMalle | April 10, 2022 | | Watch | Listen |
| Good News | Averri LeMalle | December 5, 2021 | | Watch | |
| Gratitude For God | Averri LeMalle | November 21, 2021 | | Watch | |
| Prayerful Progress | Averri LeMalle | November 14, 2021 | | Watch | |
| The Chosen Life | Averri LeMalle | November 7, 2021 | | Watch | |
| Progress in Persecution | Averri LeMalle | October 24, 2021 | | Watch | |
| Faithful Service | Averri LeMalle | October 17, 2021 | | Watch | |
| From Complaint to Compassion | Averri LeMalle | October 10, 2021 | | Watch | Listen |
| Bold Confidence | Averri LeMalle | October 3, 2021 | | Watch | Listen |
| Living With Purpose | Averri LeMalle | September 12, 2021 | | Watch | Listen |
| Fulfillment | Averri LeMalle | August 29, 2021 | | Watch | Listen |
| Live Empowered | Averri LeMalle | August 22, 2021 | | Watch | Listen |
| God is Able | Averri LeMalle | July 18, 2021 | | Watch | |
| God is Able | Averri LeMalle | July 11, 2021 | | Watch | Listen |
| God Answers | Averri LeMalle | June 20, 2021 | | Watch | Listen |
| God is Able | Averri LeMalle | June 13, 2021 | | Watch | Listen |
| The Always God | Averri LeMalle | June 6, 2021 | | Watch | Listen |
| Appropriate Anger | Averri LeMalle | May 23, 2021 | | Watch | Listen |
| Unashamed | Averri LeMalle | May 16, 2021 | | Watch | Listen |
| Mothers' Commitment | Averri LeMalle | May 9, 2021 | | Watch | Listen |
| Unlock Loneliness | Averri LeMalle | May 2, 2021 | | Watch | Listen |
| The Remedy for Anxiety | Averri LeMalle | April 25, 2021 | | Watch | Listen |
| Fear Not | Averri LeMalle | April 18, 2021 | | Watch | Listen |
| Do You Believe This? | Averri LeMalle | April 4, 2021 | | Watch | Listen |
| FOMO | Averri LeMalle | March 28, 2021 | | Watch | Listen |
| Jesus, the Fixer Upper | Averri LeMalle | March 21, 2021 | | Watch | Listen |
| Seeing Jesus | Averri LeMalle | March 14, 2021 | | Watch | Listen |
| A Fresh Start | Averri LeMalle | March 7, 2021 | | Watch | Listen |
| Thirsty for Life | Averri LeMalle | February 28, 2021 | | Watch | Listen |
| Nicodemus "Nic@Nite | Averri LeMalle | February 21, 2021 | | Watch | Listen |
| Gifted to Serve | Averri LeMalle | February 7, 2021 | | Watch | Listen |
| The Heart of a Giver | Averri LeMalle | January 31, 2021 | | Watch | Listen |
| The Call to Fish | Averri LeMalle | January 24, 2021 | | Watch | Listen |
| Who we are. What we do. Why it matters. | Averri LeMalle | January 17, 2021 | | Watch | Listen |
| You Must Know | Averri LeMalle | January 10, 2021 | | Watch | Listen |