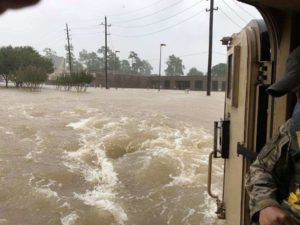 As our city suffers perhaps the worst flooding event in U.S. history, continue to pray for those experiencing extreme loss as well as first responders as they work around the clock helping those in need.
At this point, none of our four campuses have sustained flood damage, praise the Lord. However, we are not out of the woods yet as the waters continue to rise.
We are currently in communication with community officials and organizations working on the best strategy to maximize our relief efforts. For now, please stay safe, try to not get out on the roads, and continue to help your neighbors as best you can. As you know, this is an excellent opportunity to be the hands and feet of Jesus wherever God has planted you. We will soon begin rolling out plans on how we as a church can help. Please check back regularly here at
championforest.org/harvey
 for news and updates.
Please stay safe. We will see you soon.
---
Actualización:
A medida que nuestra ciudad sufre quizás el peor evento de inundaciones en la historia de los Estados Unidos, continuemos orando por aquellos que experimentan una pérdida extrema, así como por el personal de rescate, mientras trabajan sin descanso ayudando a los necesitados.
En este punto, ninguno de nuestros cuatro campus ha sufrido daños por inundación, alabado sea el Señor. Sin embargo, aún no están fuera de peligro pues el nivel de las aguas continúa creciendo.
Actualmente estamos en comunicación con funcionarios comunitarios y organizaciones, trabajando en la mejor estrategia para maximizar nuestros esfuerzos de ayuda a la comunidad. Por ahora, por favor manténgase a salvo, trate de no salir a la calle y continúe ayudando a sus vecinos lo mejor que pueda. Como ustedes saben, esta es una excelente oportunidad para ser las manos y los pies de Jesús dondequiera que Dios les ha plantado. Pronto comenzaremos 
a desarrollar 
como iglesia los
 planes sobre cómo podemos ayudar. Por favor, visite regularmente esta página, championforest.org/harvey, para obtener noticias y actualizaciones.
Por favor, manténgase a salvo. Continuamos en contacto.